We've all come to terms with it:  The holidays are going to look a little different for many of us this year.  Nonetheless, retailers and marketers whose businesses thrive on holiday season shopping have much to look forward to when it comes to Hispanic holiday shopping – provided their plans include Hispanic consumers.
In partnership with MediaPredict, our recent holiday shopping study found that there are three key reasons why Hispanic shoppers must be at the top of your marketing and communications list if you want to grow sales this holiday season.
Let's examine further:
Hispanic consumers have a positive outlook on what's to come
The majority of all consumers, both Hispanic and non-Hispanic, believe the worst of the pandemic is behind us. In addition, 70% of Hispanics have seen their financial situation remain stable or improve in the recent months, and 8 out of 10 Hispanics have a positive outlook – expecting their financial situation to remain steady or even improve for the holiday season. Furthermore, Hispanics are 1.2x more likely to believe that the holiday season signals new beginnings and opportunities (82% vs. 69% for non-Hispanics).
¡Celebremos! Hispanics celebrate more holidays and are passionate about including cultural traditions in their celebrations
From Nochebuena to Three Kings Day, Hispanics find more reasons to celebrate in the holiday season beyond Christmas Day – meaning more gifts, more outfits, more meals. But in addition to this, Hispanic consumers are nearly 30% more likely to include cultural traditions in their holiday celebrations, which means they have more reasons to purchase specific food items and decorations to make the festivities special. Furthermore, Hispanics are dedicated to maintaining and sense of normalcy, with 83% saying they will do what they can to make this holiday season as "normal" as possible (vs. 80% for non-Hispanics).
Hispanics are ready to shop early, but will be looking to brands and retail deals during major milestone shopping events
Hispanic shoppers are ready to dash into their holiday shopping, with 35% planning to shop as early as the beginning of November. But unlike their non-Hispanic counterparts, Hispanics are 1.7x more likely (26% vs. 15% for non-Hispanics) to intend to shop during Black Friday and Cyber Monday, meaning messages to this consumer during this time will be a key driver of success.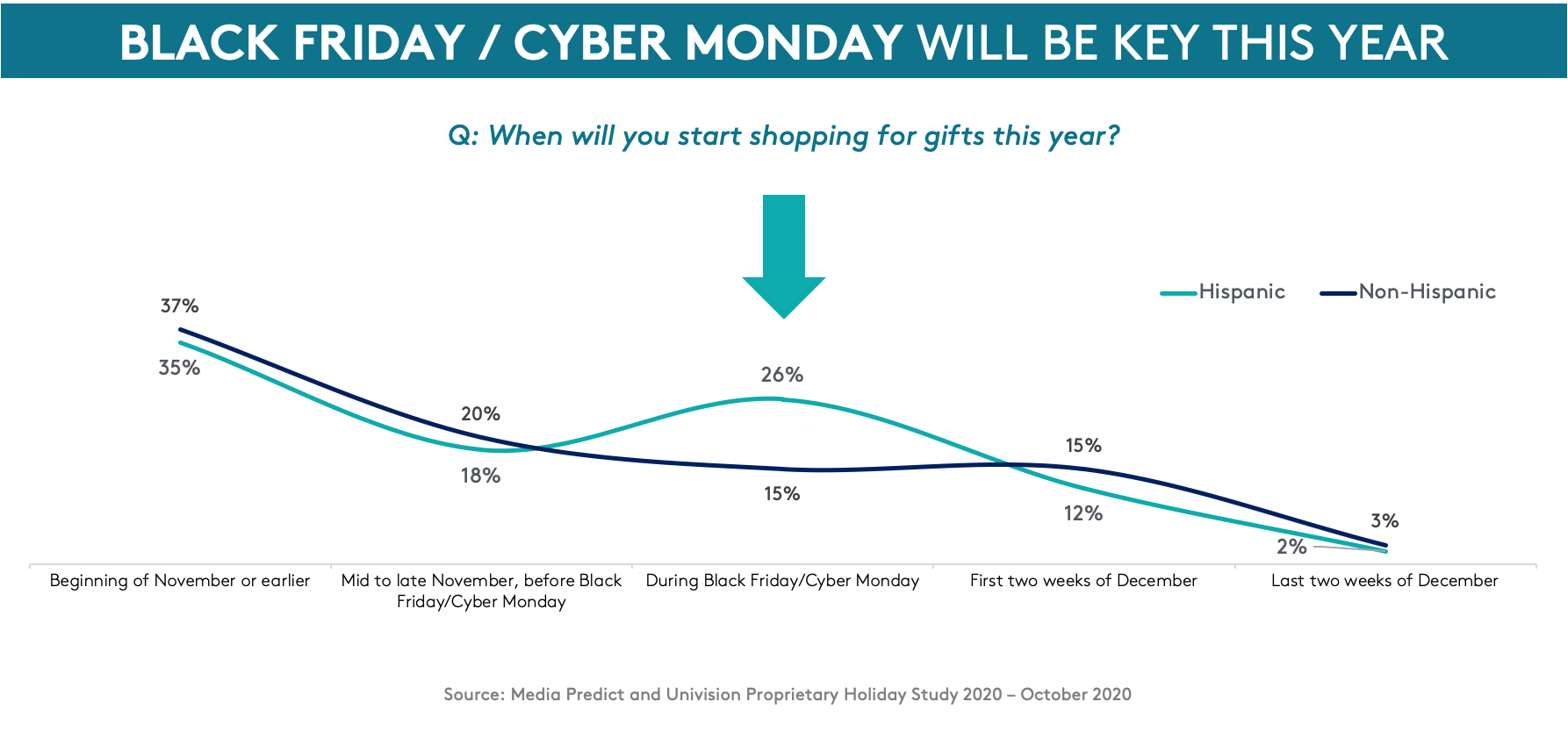 And finally, Hispanics are much more likely to plan to make purchases they have been putting off, with 38% saying that they will do so this holiday season (vs. 31% for non-Hispanics).  Furthermore, Hispanics have a higher intent to purchase across many major categories, including clothing, footwear, beauty, and indoor holiday décor.
All brands and retailers are looking for bright spots this holiday season, and in the current environment it's clear that the positive outlook, zest for celebrations, and a desire to maintain a sense of "normal" will make Hispanics a major driver of holiday sales.