Like any art form, movies are a mirror of our society. And as the U.S. continues to evolve into a minority-majority nation, studios are challenged to produce stories that reflect the changing faces of American moviegoers.
But it even goes beyond demographics: According to the 2015 MPAA Theatrical Market Statistics, minority consumers report higher annual attendance per capita than White/non-Hispanics, with Hispanics leading all visits (5.2 times per year). As Deborah Calla, Chair of the PGA Diversity Committee says, "It is clear that in order to maximize profit, movie studios need to speak directly to the various cultural groups that make up the population [of the United States]."
"Speaking directly" to this consumer includes producing storytelling that authentically reflects their experiences, culture and values. According to The Futures Company, Hispanics are twice as likely as non-Hispanics to live in a multicultural household and they are more likely than the total population to socialize outside their race (87% vs. 74%). The reflection of this plurality is especially important for Hispanic consumers whose high cultural openness shapes their media consumption habits: 56% of Hispanics say that race and ethnicity influence their choices in movies and TV (vs. 39% Total).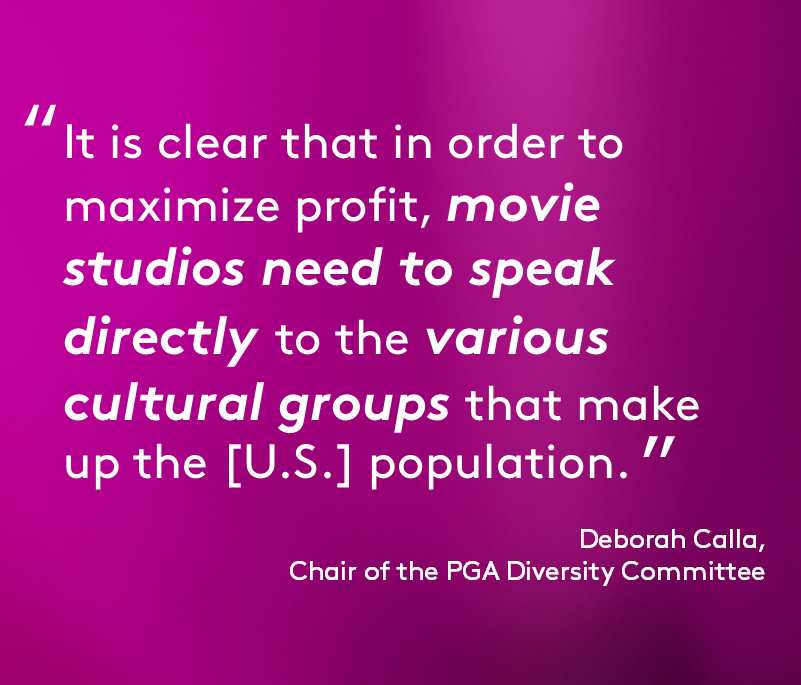 Diverse storytelling not only satisfy the need for culturally relevant content, but also fuel box office commercial success.  According to the UCLA 2017 Hollywood Diversity Report, films with relatively diverse casts gained the highest median global box office receipts, and from 2014-2016, films with Hispanic story lines and multicultural casts averaged a 24% Hispanic audience share.  (Keep in mind that Hispanics comprise 17% of the total U.S. population.)
To continue driving high Hispanic movie going, studios must speak to the nuances so important to this consumer, including messaging in their language of choice. The Yankelovich Monitor reports that 80% of U.S. Hispanics appreciate businesses that communicate with them in Spanish.  As Calla aptly says, "when the [advertising] messaging is targeted to the Hispanic community in their native language, in a culturally-appropriate way, there is a feeling of inclusion and acknowledgment. The greater returns reflect and justify these target-specific campaigns."
Sources: 2015 MPAA Theatrical Market Statistics. The Futures Company (formerly Yankelovich). 2015 Multicultural Monitor. (Based on Hispanic Persons 16+). Nielsen Entertainment Hispanic Box Office Estimation Week 1 B.O. (%); 2014-2016YTD. UCLA 2017 Hollywood Diversity Report.