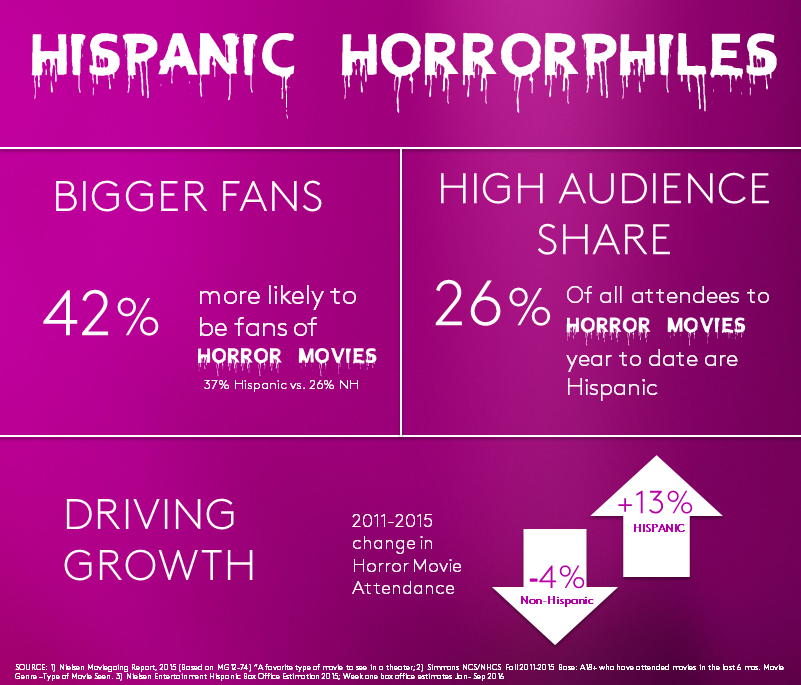 Nail-biting, spine-chilling, nerve-racking moments—are all part of the thrill of watching a good horror movie. And when it comes to experiencing the fear a horror movie incites, Hispanics are amongst those first in line….at the box office. This explains why from 2011 to 2015, Hispanic horror movie attendance grew 13% while non-Hispanic declined 4%. Additionally, looking at year-to-date, Hispanics make up 26% of the audience—in comparison to 18% of the population.
It's a love rooted in cultural relevance. As NPR reports, hearing scary stories of characters like La Llorona and El Cuco is a common part of Hispanic folklore. The familiarity around good vs. evil and the celebration of the supernatural are undercurrents within Hispanic culture.
As the horror genre continues to pull strong showings for studios, you can expect Hispanics to be a crucial part of that success. Hispanics are 42% more likely than non-Hispanics to be horror fans—and it's only one of many genres enjoyed by Hispanics. For studios premiering horror films, remember:  there's never anything scary about targeting Hispanic horror fans!