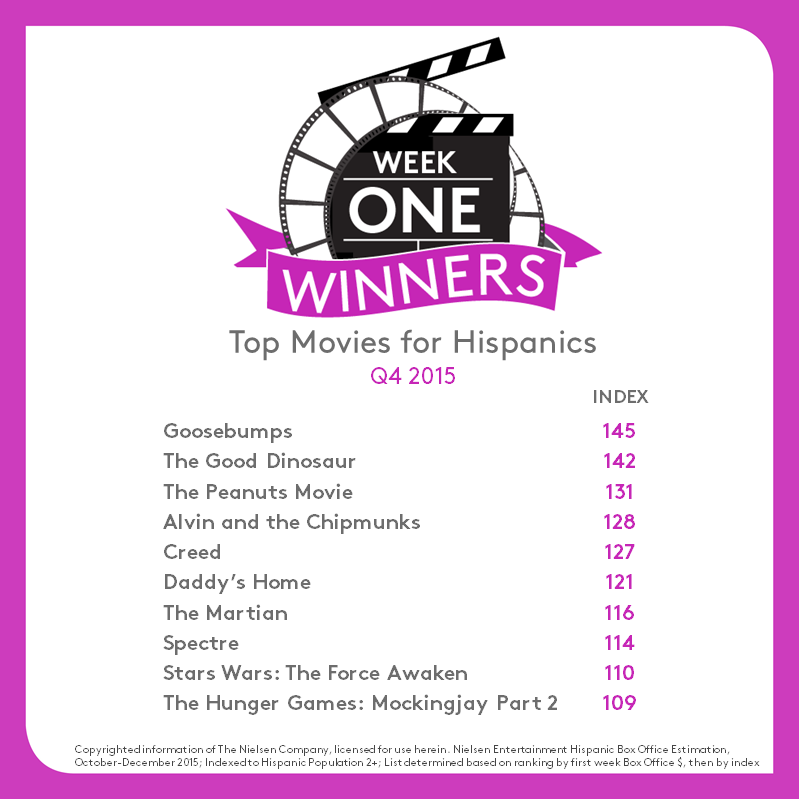 With Awards Season in full swing, film fans across the country are looking back at 2015's year in movies to select the winners, and catch up on any titles they may have missed. Let's review some of the titles that topped the list with Hispanics on opening week during Q4 2015.
Family-friendly titles dominated the top five films, a fact to be expected during the holiday season when more time is dedicated to spending time with loved ones. Topping the list was Goosebumps, based on the fictional novels of R.L. Stine, which was released just before Halloween and saw an impressive 25% box office penetration among Hispanics.
The lone drama on the list, Creed, a continuation of the "Rocky" franchise from Sylvester Stallone and starring Michael B. Jordan,  was well-attended by Hispanic moviegoers who accounted for 22% of the total box office, contributing over $8MM in opening weekend ticket sales nationwide.
Action Adventure titles also fared well throughout the quarter led by George Lucas' Star Wars: The Force Awakens. Hispanic audiences were estimated to pour nearly $71 million dollars at the box office on opening weekend. Spectre, the latest installment in the James Bond saga, plus The Hunger Games: Mockingjay Part 2 also made the top 10, illustrating that movie franchises continue to do well among Hispanic audiences.
Stay tuned for the Q1 2016 "Week One Winners" out in March. For more information on Hispanic consumers, check out @Hispanic411.