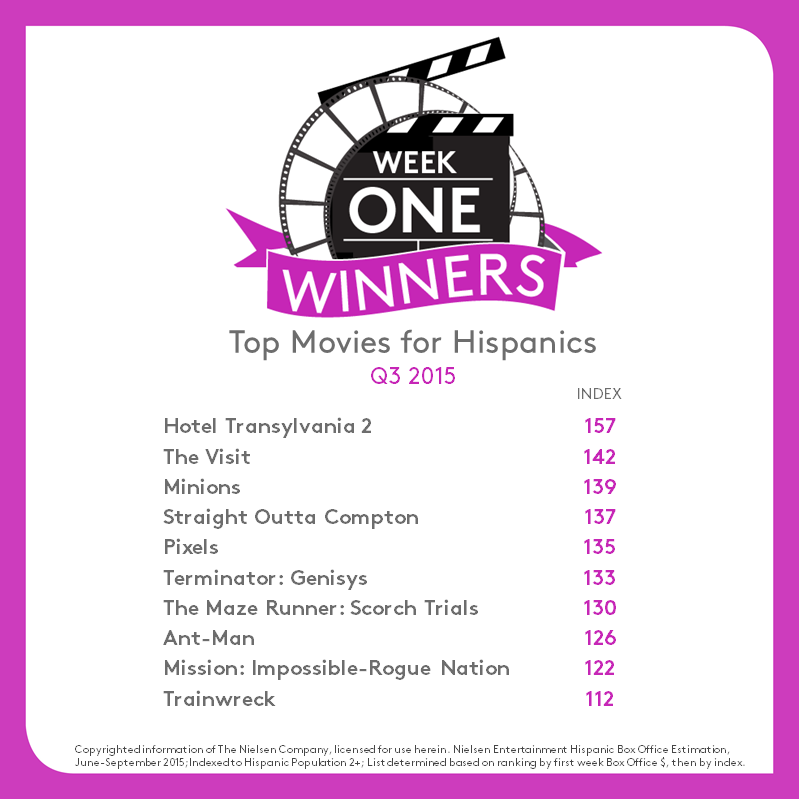 As the seasonal movie slate transitions from the action-packed titles of summer to the feel-good fare around Holiday season, let's take a look back at the movies that were top among Hispanics on opening week in Q3.
Hotel Transylvania 2 not only broke September Box Office records, it was the top movie for the quarter. A 3-month partnership with UCI helped drive Hispanic families to the theater, pushing "Hotel T 2" to become the largest September opening—ever.
M. Night Shyamalan's latest horror flick, The Visit, came in just behind HT2, followed closely by the family hit Minions, and hip hop drama Straight Outta Compton which took #3 and #4 on the list, respectively. These three Universal titles perfectly illustrate how a diversified approach can lead to big-time box office results for studios. The NWA biographical drama had a 23% Hispanic share its opening weekend, highlighting that Hispanics' love of movies spans all genres.
Check back to find out which films Hispanics  flocked to this winter when we release "Week One Winners" for Q4.