Alzheimer's disease is currently ranked as the fifth leading cause of death in the U.S. among people ages 65 and over in the United States. When it comes to Hispanics, studies have shown that there will be a drastic increase in the incidence of Alzheimer's disease among the population (379,000 in 2012 to 1.1 million by 2030). And yet, despite the growing impact of the disease, Alzheimer's remains an unaddressed health disparity.
Here at Univision, we're recognizing National Alzheimer's awareness month to help raise awareness among Hispanics who are affected by the disease, as well as support those who are caring for a family/friend in need.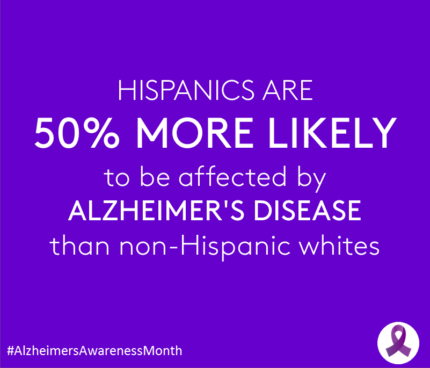 According to a recent report called Latinos & Alzheimer's Disease: New Numbers Behind the Crisis, Hispanics are 50% more likely to be affected by Alzheimer's than non-Hispanic whites, yet they are less likely to get diagnosed. This could explain why Hispanics (in particular Caribbean Hispanics) are 2-4 times more likely than non -Hispanic Whites to have Late Onset Alzheimer's disease.  Other contributing factors could include cardio-cerebro-vascular disease, metabolic syndrome and the fact that Hispanics tend to be less aware of the risk factors and less likely to recognize the symptoms of this disease. This once again proves why education and awareness are critical in reaching this consumer.
Hispanics represent a major opportunity in this industry. The Alzheimer's disease total U.S. market is estimated at $2.9B, reflecting a 10% year-over-year growth, and out of the total market, Hispanics are estimated to contribute around $270M or 9.5%. Plus, for the first time in history, Hispanics insurance coverage rates have reached peak levels. The latest available report indicates that approximately 83.8% of Hispanics have some type of insurance. The time to reach this segment is now.
Source: Advanced Dementia – Mitchell, NEJM, 2015. Early onset Alzheimer's disease: A global cross-sectional analysis. Paneqyres, Eur J. Neurology, 2014.Genetics of Alzheimer's disease in Caribbean Hispanic and African American Populations. Reitz, Biol Psychiatry, 2014. Younger age of dementia diagnosis in a Hispanic population in Southern California. Fitten, Int J. Geriatr Psych, 2014. U.S. Census Current Population Survey ASEC March 2016