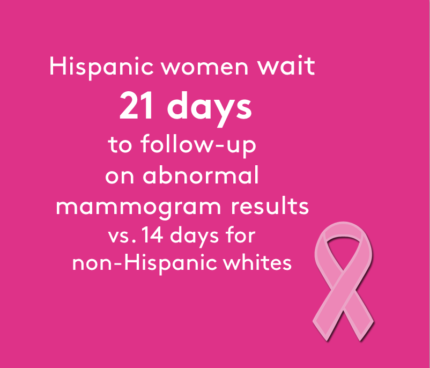 As October is National Breast Cancer Awareness Month, it's important to highlight this disease that is the most commonly diagnosed cancer and leading cause of cancer death among Hispanic women. While the incidence rate is 28% lower than in non-Hispanic white women, the staggering truth is that Hispanics who are diagnosed have a higher mortality rate.
As many sources have noted, including the American Cancer Society: there is a pressing need for educational messaging on the importance of regular screenings and early detection among Hispanics given their slower declining death rates (1.3% vs. 1.9% per year for non-Hispanic whites), lower utilization of mammography, and higher likelihood of being diagnosed at a more severe stage.
However, the focus should not only be on raising screening awareness. Surprisingly, Hispanic women who are going for screenings and doing self-exams are more likely to delay following up on abnormal results or self-discovered breast abnormalities. Hispanic women waited a median of 21 days to follow up on abnormal mammogram results compared to 14 days for non-Hispanic whites. This demonstrates the need to emphasize that simply going for screenings is not enough; Hispanics must follow up on abnormal results.
The recent Univision and Nielsen Hispanic Healthcare Journey study revealed that among patients suffering from chronic conditions (diabetes, high cholesterol, RA, COPD, and ED) Hispanics were more likely to delay diagnosis even after the onset of symptoms compared to non-Hispanics. Across conditions there is a tremendous opportunity for healthcare marketers to stress the importance of screening follow ups to help Hispanics better improve their health outcomes.
Sources:
American Cancer Society. Cancer Facts & Figures for Hispanics/Latinos, 2015-2017. American Cancer Society, 2015.
Racial/Ethnic Disparities in Time to Follow-Up after an Abnormal Mammogram, Journal of Women's Health, July 2008
Univision/Nielsen Hispanic Healthcare Journey Study 2016