The latest annual report from the Center of Disease Control and Prevention (CDC) shows that despite advances in healthcare access and quality of care over the last decade, health disparities still remain a cause for concern for U.S Hispanics.
According to Dr. Cara James, director of the Centers for Medicare and Medicaid Services (CMS) Office of Minority Health, "increasing understanding and awareness of disparities and their causes is the first step in our path to equity." We couldn't agree more as there is a lack of in-language and in-culture outreach in the healthcare system among the Hispanic community.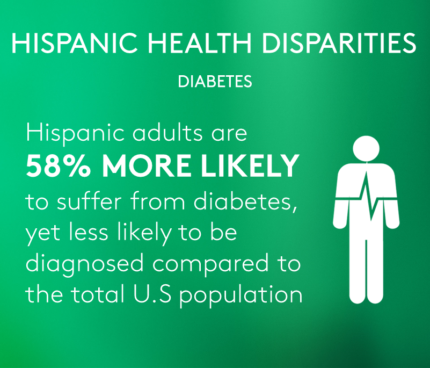 For instance, data shows that 22.6% of Hispanic adults suffer from diabetes, but only half (55%) have been diagnosed. This is in contrast with the Total U.S. adult prevalence of 14.3% and diagnosis rate of 63%. Yet, in 2015 there were only eight brands investing in DTC diabetes campaigns in Spanish-language TV compared to 16 in English-language. And, only 3% of total pharma DTC TV ad spend was invested in Spanish— that's an improvement from just 1% in both 2013 and 2014.
There is a lack of in-language and in-culture outreach in the healthcare system among the Hispanic community.
Despite all this, there is still an opportunity to make a difference. As I've mentioned in one of my previous blogs, there have been impressive gains in healthcare access among the Hispanic community—with +9% YOY growth in the number of Hispanic insurers  vs. only +4% for total non-Hispanics from 2013-2014. We're also seeing gains in Hispanic purchasing power that can help close the disparities gap in healthcare. U.S. Hispanic consumer spending is projected to grow from $1.0 Trillion in 2014 to $1.9 Trillion by 2024. That's an 85% growth in Hispanic spending over the next 10 years compared to 54% for the Total U.S.
While there is still so much more to do to increase health and wellness education, all signs point to the fact that Hispanics represent a major opportunity for the healthcare industry. Those that approach Hispanic consumers thoughtfully and consistently will be sure to reap the benefits.
Sources: JAMA "Prevalence of and Trends in Diabetes Among Adults 20+ in the US, 1988-2012" September 8, 2015, Vol 314, No. 10, Nielsen Ad Intel Full Year 2015 (B). Spanish-language TV includes Network, Cable, and Spot TV. English-language TV includes Network, Cable, Spot, and Syndication TV. IHS Global Insight Hispanic Market Monitor 2015. Centers for Disease Control and Prevention National Health Interview Survey Q1 2010 – Q3 2015 A18-64 Hispanics. U.S. Census Bureau, Current Population Survey 2015 March Supplement – Reflects Health Insurance Status for 2014.