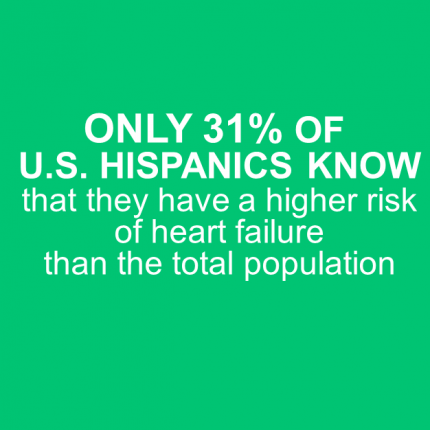 In May of this year, UCI partnered with Latinum Network to gain insights into Hispanics' awareness and understanding of the following seven diseases: Hepatitis C, Heart Failure, Psoriasis, Diabetes, Breast Cancer, Liver Cancer and Chronic Hives. We'll be sharing key insights and learnings on Hispanics overall awareness of each disease.
In our first blog, we discussed Hispanics' understanding of hepatitis C based on our disease awareness study done in partnership with Latinum Network. Today, we're focusing on heart failure.
According to the study, Hispanics have some understanding of the disease. For example, 72% of Hispanics know that "you are at higher risk of heart failure if you suffer from high blood pressure or diabetes" compared to 80% of NH whites. In addition, 59% of Hispanics know that heart failure does not necessarily mean that your heart has stopped beating (vs. 48% of NH whites).
What's interesting to note, however, is that only 31% of Hispanics know that they have higher rates of heart failure than the general U.S. population. Hispanics face a higher risk of heart failure because of a propensity towards high blood pressure, diabetes, and obesity. In fact, Hispanics account for 1 out of every 5 adult diabetics and nearly 1/3 of adult Hispanics are obese [1]. The need for increased targeted communication is evident.
We have already seen progress with more healthcare organizations focusing on Hispanics to inform them about diabetes. Given the link between heart failure and diabetes, elevating awareness about heart failure to this highly-valuable demographic should be a top priority for healthcare marketers.
Source: 1. CDC 2012 National Health Interview Survey, Based on A18+ Applied to U.S. Census 2015 National Population Projections Released December 2012.