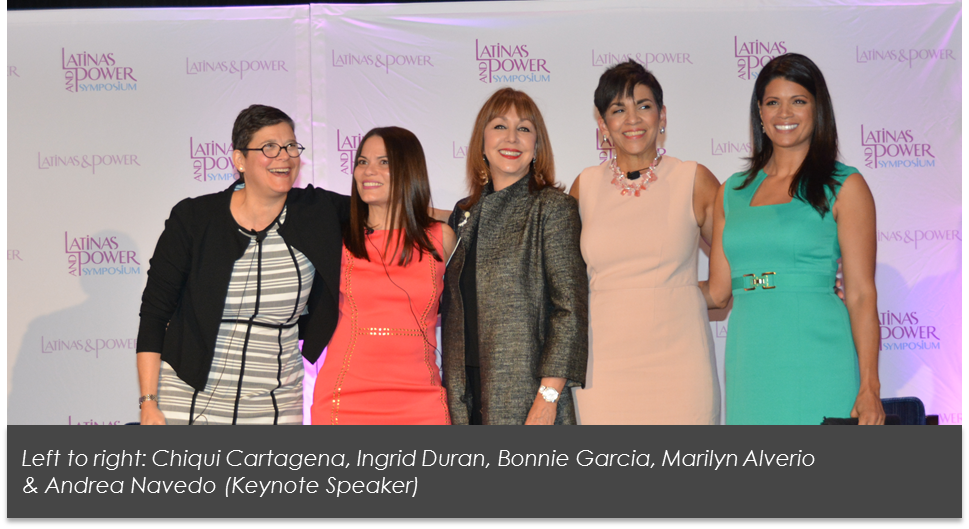 "When you put a Latina, determinada, a hacer algo (determined, to do something)….get out of the way," said Chiqui Cartagena, Univision's SVP of Political and Advocacy Group and author of Latino Boom II at the 13th annual Latinas & Power Symposium, a daylong conference that has become the largest gathering of Latina professionals in the Northeast.
Many Latina professionals are driven by a determination to succeed—and succeeding is what they're doing. The White House Initiative on Educational Excellence reports that the number of Latinas in major professional capacities has grown exponentially, including: Managers (+30%), Lawyers (+33%), and Doctors (+40%). At the symposium, Cartagena led a panel of political (Ingrid Duran, Connecticut's State Director for the Hispanic Federation) and business leaders (Bonnie Garcia, CEO of MarketVision, and Marilyn Alverio, Senior Manager at MassMutual) to discuss some of the key issues facing this group.
Financial empowerment was one of those issues. Alverio said, "Money equals power and our ability to be able to succeed – not just for ourselves but for our families and our communities." Taking personal accountability for the financial welfare of the family is a responsibility many Latinas carry out. Nielsen confirms that nearly a quarter of Latinas (24%) have increased their personal contribution to the household income and, in comparison to non-Hispanic women, Latinas over-index in planning to put extra money into areas like investments (190), savings (121) and retirement (121).
The panelists also discussed how the Latino culture can affect financial planning. One nuance is that Hispanics tend to live in larger, multigenerational households; that means Latinas are looking for tailored products and services to address those needs. Mass Mutual recently acted on this insight by launching Valora Life, a new term life insurance product that allows Hispanic families affordable coverage options.
Another nuance is that the topic of money isn't always openly talked about in Hispanic homes. The lack of knowledge on the subject–not knowing what to ask or how to evaluate financial products—can act as a barrier. Duran addressed how political organizations can promote financial literacy through advocacy and policy.  She shared her organization's involvement with "Work and Save" programs, which allow state residents to save for their financial future through payroll deductions—even if their employer doesn't provide the option.
But, to really challenge the taboos around money discussions, change needs to start early and in places like the dinner table. "Let's talk about savings and preparing to go to college….this should be part of everything that, as Latinas, we inculcate in our kids."
Sources: 1. The Latina Power Shift, Nielsen. 2. Fulfilling America's Future: Latinas in the U.S., 2015