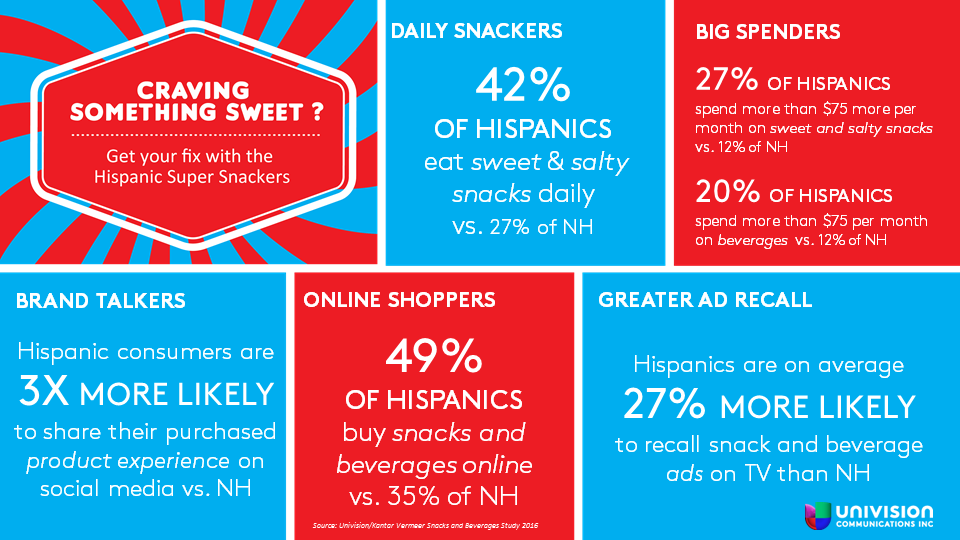 On February 25, Univision and Kantar Vermeer teamed up for the latest Hispanic 411 webinar titled "Super Snackers: The Power of Hispanic Snack & Beverage Consumers." The focus of this webinar was to highlight some facts about Hispanics' relationship with the CPG Food & Beverage categories, understand the role tradition plays within the category, and explore the social nature of this consumer that makes them very compelling consumers worth investing in.
The data was collected over the span of one month with more than 2,200 responses recorded throughout the timeframe. The objective was to understand the nuances between Hispanics and non-Hispanics across the consumer purchase journey with myriad touchpoints that influence decision-making. This fact is especially true for both the snacks and beverages categories given their high-trial and discretionary nature.
Enduring Tradition
One truth we learned was that Hispanics value cultural and familial traditions, which serve as essential factors in the development of their sense of identity. Take, for example, that 42% of Spanish-dominant Hispanics prefer to follow traditional meal preparation methods compared to 17% of English-dominant Hispanics. In addition, our insights have shown us that Hispanics prefer to spend time with family and friends, and are happier when socializing in groups versus relaxing alone. The concept of "taking it easy" is very different between Hispanics and non-Hispanics. To Hispanics, it means shared experiences with loved ones, and enjoying that time together.
Socially-Focused
Another key finding was centered around the social nature of Hispanics. As discussed, tradition is passed down and therefore learned belief. One illuminating custom that illustrates this phenomenon is around hosting events in the home. Hispanics more often prefer to host gatherings in their homes (44% H vs. 33% NH), but the chasm between Hispanic and non-Hispanic millennials is jaw-dropping. Nearly half of Hispanic Millennials (47%) prefer to host social gatherings at their home, whereas just 13% of non-Hispanics feel the same.
Brand Trust
The role that trust plays in shopping decisions, primarily as it relates to a brand, is another major factor. 45% of Hispanics prefer to stick to tried and trusted brands compared to just 34% of non-Hispanics. However, once trust with the brand has been established, Hispanics are more likely and willing to try and buy new product lines. In fact, 42% of Hispanics polled said they would be willing to buy new products as compared to just 23% of non-Hispanics. That willingness to explore across a brand portfolio is crucial for marketers to recognize when trying to reach this audience.
Taste Is King
The most interesting takeaway from the study was that Hispanics continue to value taste ahead of all other brand drivers. They want full-flavored, delicious snacks and drinks, and are willing to pay a premium for them. These snacks and beverages enable the social exchange that is so important among Latinos. Hispanics are 91% more likely to be driven by "great tasting" than non-Hispanics, and while price and shareability are certainly considered, taste reigns above all else.
Hispanics are a loyal to their culture, to their families and to the brands they know and trust. Engage them with culturally relevant messaging that connects emotionally, and you may learn first-hand the true power of these Hispanic Super Snackers.
Click here to watch the full webinar.