The show presents the final round of profound interviews featuring famous singers, actors and athletes opening their homes and hearts
The second half of season two premiers Sunday, November 5th at 10 p.m. ET on ViX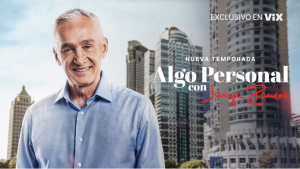 The show will feature conversations with Luis Fonsi, Omar Chaparro, Checo Perez and more.
MIAMI, FL. – OCTOBER 27, 2023 – Season 2 of ALGO PERSONAL CON JORGE RAMOS, the celebrity interview program hosted by Emmy® award-winning journalist and bestselling author Jorge Ramos, returns with the final round of intimate interviews to close out the shows second season. The multi-episode drop will feature conversations with Puerto Rican singer-songwriter Luis Fonsi, Mexican actor and comedian Omar Chaparro and award-winning athlete, Formula 1 driver Sergio "Checo" Perez. The three bingeable episodes will become available on Sunday, November 5th at 10 p.m. ET, exclusively on ViX.
Ramos's first-ever streaming program, ALGO PERSONAL CON JORGE RAMOS debuted on April 24, 2022, to huge success. The show features in-depth personal conversations with some of the world's most famous Spanish-speaking celebrities and personalities. The series takes the audience on location with Ramos as he dives into the lives of fascinating characters who share their most private details. Ramos, best known for his interviews with Presidents and high-profile political figures, is seen in a fresh new light as he guides a mutual, intimate conversation that allows viewers to learn about the interviewer and the interviewee.
The show streams Sundays at 10 p.m. ET on ViX's "Noticias Univision 24/7" news channel. All episodes are also available on-demand in the U.S. and most Spanish-speaking Latin America, excluding Mexico. Past interviews include sit-downs with Los Aguilar, Don Francisco, Alejandro González Iñárritu, Chiquis Rivera, Chef Jose Andres, Alejandro Sanz, Mario Vargas Llosa, Maná, Isabel Allende, Eugenio Derbez, and more.
ADDITIONAL INFORMATION
Everyone can follow all the most up-to-date information of TelevisaUnivision's streaming platform ViX by following @ViX on X and Instagram.
For more press information on TelevisaUnivision please visit our Newsroom or follow us on X and Instagram.
CONTACT: Melissa Agudelo magudelo@univision.net
About ViX  
ViX is the first large-scale streaming service to exclusively serve the Spanish-speaking world. Owned by TelevisaUnivision, ViX celebrates Latin cultures and Spanish-speaking storytellers with an unprecedented 75,000 hours of free and paid premium content across genres including movies, comedy series, novelas, drama series, and children's content, as well as live news and sports. Tapping into more than 300,000 hours of TelevisaUnivision's content library and robust IP vault, the global streaming service illuminates Spanish-language entertainment by pushing boundaries and igniting joy with its unparalleled content. ViX includes two tiers – a free tier and a premium-subscription based tier – all in one app. Giving subscribers access to the broadest, most premium Spanish-language content ever offered in streaming, ViX's premium tier delivers up to 7,000 hours of live sports, and over 70 ViX Original series and movies in its first year. 
About TelevisaUnivision 
TelevisaUnivision is the world's leading Spanish-language media company. Powered by the largest library of owned Spanish-language content and a prolific production capability, TelevisaUnivision is the top producer of original content in Spanish across news, sports and entertainment verticals. This original content powers all of TelevisaUnivision's platforms, which include market-leading broadcast networks Univision, Las Estrellas, Canal 5 and UniMás, and a portfolio of 38 cable networks, which include TUDN, Galavisión, Distrito Comedia and TL Novelas. The company also operates the leading Mexican movie studio, Videocine, and owns and operates the largest Spanish-language audio platform in the U.S. across 35 terrestrial stations and the Uforia digital platform. TelevisaUnivision is also the owner of ViX, the largest Spanish-language streaming platform in the world. For more information, please visit televisaunivision.com.
ALGO PERSONAL CON JORGE RAMOS regresa a ViX con los últimos episodios de la segunda temporada
El programa presenta la ronda final de profundas entrevistas en las que famosos cantantes, actores y deportistas abren sus casas y sus corazones.
La segunda mitad de la segunda temporada se estrena el domingo 5 de noviembre a las 22.00 h ET en ViX.
MIAMI, FL. – 27 DE OCTUBRE DE 2023 – La segunda temporada de ALGO PERSONAL CON JORGE RAMOS, el programa de entrevistas a celebridades conducido por el periodista ganador del premio Emmy® y autor de bestsellers Jorge Ramos, regresa con la ronda final de entrevistas íntimas para cerrar la segunda temporada del programa. La entrega de varios episodios incluirá conversaciones con el cantautor puertorriqueño Luis Fonsi, el actor y cómico mexicano Omar Chaparro y el galardonado atleta y piloto de Fórmula 1 Sergio "Checo" Pérez. Los tres episodios estarán disponibles el domingo 5 de noviembre a las 10 p.m. ET, exclusivamente en ViX.
El primer programa en streaming de Ramos, ALGO PERSONAL CON JORGE RAMOS, se estrenó el 24 de abril de 2022 con gran éxito. El programa presenta conversaciones personales y profundidas con algunas de las celebridades y personalidades de habla hispana más famosas del mundo. La serie lleva a la audiencia junto a Ramos mientras se sumerge en las vidas de personajes fascinantes que comparten sus detalles más privados. Ramos, más conocido por sus entrevistas a presidentes y figuras políticas de alto nivel, es visto bajo una nueva luz mientras guía una conversación mutua e íntima que permite a los espectadores aprender sobre el entrevistador y el entrevistado.
El programa se transmite los domingos a las 10 p.m. ET en el canal de noticias "Noticias Univision 24/7" de ViX. Todos los episodios están también disponibles a la carta en EE. UU. y en la mayor parte de Latinoamérica de habla hispana, excepto México. Programas pasados incluyen entrevistas con Los Aguilar, Don Francisco, Alejandro González Iñárritu, Chiquis Rivera, el chef José Andrés, Alejandro Sanz, Mario Vargas Llosa, Maná, Isabel Allende, Eugenio Derbez, y más.
INFORMACIÓN ADICIONAL
Todos pueden seguir toda la información más actualizada de la plataforma de streaming ViX de TelevisaUnivisión siguiendo@ViX en X e Instagram.
For more press information on TelevisaUnivision please visit our Newsroom or follow us on X and Instagram.
CONTACTO: Melissa Agudelo magudelo@univision.net
Acerca de ViX
ViX es el primer servicio de streaming global a gran escala que sirve exclusivamente al mundo hispanohablante. Propiedad de TelevisaUnivision, ViX celebra las culturas latinas y los narradores de lengua española con 75,000 horas de contenido de un nivel sin precedente, tanto gratuito como premium pago, en diversos géneros con películas, series cómicas y dramáticas, novelas y programación infantil, además de noticias y deportes en vivo. Aprovechando las más de 300,000 horas de la librería de contenido de TelevisaUnivision y su robusto catálogo de propiedad intelectual, ViX ofrece un servicio sin igual que ilumina el entretenimiento en español, generando alegría y desafiando los límites. ViX incluye un nivel gratis y un plan premium con suscripción. Proveyendo acceso a sus subscriptores a un amplio contenido y una oferta en español premium jamás vista en un servicio de streaming, el plan premium ofrece entretenimiento sin publicidad, incluyendo más de 7,000 horas de deportes en vivo, y con más de 70 series y películas originales que se estrenarán en el primer año.
Sobre TelevisaUnivision 
TelevisaUnivision es la compañía líder de medios en español en el mundo. Impulsada por la biblioteca propia más grande de contenido en español y una alta capacidad de producción, TelevisaUnivision es el más grande productor de contenido para las verticales de noticias, deportes y entretenimiento. Este contenido original es lo que impulsa las plataformas de TelevisaUnivision, que incluyen las cadenas de transmisión líderes Univision, las estrellas, Canal 5, y UniMás, y un portafolio de 38 canales de televisión de paga, que incluyen TUDN, Galavisión, Distrito Comedia, y TL Novelas. La compañía además opera el estudio de producción cinematográfica líder en México, Videocine, y posee y administra las plataformas más grandes de audio en español en Estados Unidos en 35 estaciones y la plataforma digital Uforia. TelevisaUnivision también es propietaria de ViX, el servicio de streaming en español más grande del mundo. Para más información, por favor visita televisaunivision.com.
###