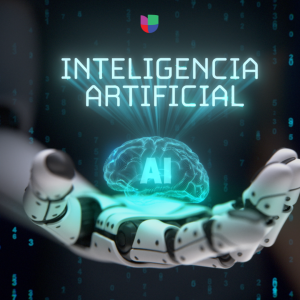 Enjoy a full day of information on Artificial Intelligence technology on UNIVISION's must watch programs
Click here to download promotional materials
Miami, FL. – September 11, 2023 – Univision, the leading Spanish-language network in the United States, will present a day dedicated to artificial intelligence (AI) on Thursday, September 14th, with Univision network's on-air campaign LO QUE NO SABES DE LA INTELIGENCIA ARTIFICIAL (What you don't know about Artificial Intelligence).
AI technology enables machines to learn from experience, adapt to new inputs and perform tasks in a manner similar to humans. Throughout the day UNIVISION's shows will provide in-depth- coverage of this important topic.
The day kicks off with two special features on DESPIERTA AMÉRICA, which airs from 7 a.m. to 11 a.m. ET. Morning viewers can tune-in to watch Satcha Pretto discuss the impact of AI on employment and address the fear that people have of losing their jobs to the evolving technology. Elyangelica González will also provide important information on how AI can be effectively used in everyday healthcare needs.
At 12 p.m. ET NOTICIERO EDICIÓN DIGITAL's Carolina Sarassa shares a story that all parents can relate to, highlighting both the benefits and challenges of using AI as a "nanny" for children. That afternoon at 4 p.m. ET EL GORDO Y LA FLACA's Tanya Charry lightens up the discussion with information on how AI will change the world of entertainment. And closing out the day at 5 p.m. ET PRIMER IMPACTO's Pamela Silva will delve into the use of artificial intelligence by sexual predators and how authorities also use AI to combat abusers.
Artificial Intelligence is here to stay and Univision's LO QUE NO SABES DE LA INTELIGENCIA ARTIFICIAL (What you don't know about Artificial Intelligence) campaign exemplifies the network's dedication to its audience members to keep them informed with factual and useful information.
For more press information on TelevisaUnivision please visit our Newsroom or follow us on Twitter and Instagram.
CONTACT:
Laura Paez lpaez@televisaunivision.com
###
Univision dedica el 14 de septiembre a la Inteligencia Artificial lanzando la campaña: LO QUE NO SABES DE LA INTELIGENCIA ARTIFICIAL
Disfruta un día completo de información sobre la tecnología de Inteligencia Artificial a través de los programas más vistos de UNIVISION
Miami, FL. – 11 de septiembre de 2023 – Univision, la cadena en español líder en Estados Unidos dedica de día completo del jueves 14 de septiembre a la inteligencia artificial (IA) con la campaña televisada LO QUE NO SABES DE LA INTELIGENCIA ARTIFICIAL en la cadena Univision.
La tecnología de la IA permite a las máquinas aprender de la experiencia, adaptarse a nuevas entradas y realizar tareas de forma similar a los humanos. A lo largo del día, varios de los programas de Univision tratarán en profundidad este tema importante.
El día comienza con dos reportajes especiales en DESPIERTA AMÉRICA, que se emite de 7 a.m. 11 a.m. ET. Por la mañana, los telespectadores podrán sintonizar el programa en el que Satcha Pretto hablará sobre el impacto de la inteligencia artificial en el empleo y abordará el miedo de la gente a perder su trabajo debido a la evolución de la tecnología. Elyangelica González también ofrecerá información importante sobre cómo puede utilizarse eficazmente la IA en las necesidades de la salud.
A las 12 p.m. ET, Carolina Sarassa, de NOTICIERO EDICIÓN DIGITAL, compartirá una historia con la que todos los padres pueden identificarse, destacando tanto los beneficios como los retos de utilizar la IA como "niñera" para los niños. Esa tarde, a las 4 p.m. ET, Tanya Charry, de GORDO Y FLACA, liviana el debate con información sobre cómo la IA cambiará el mundo del entretenimiento. Y para cerrar el día, a las 5 p.m. ET, Pamela Silva, de PRIMER IMPACTO, profundiza sobre el uso de la inteligencia artificial por parte de los depredadores sexuales y en cómo las autoridades también utilizan la IA para combatir a los abusadores.
La Inteligencia Artificial está aquí para quedarse y la campaña LO QUE NO SABES DE LA INTELIGENCIA ARTIFICIAL de Univision ejemplifica la dedicación de la cadena a sus miembros de la audiencia para mantenerlos informados con información objetiva y útil.
Para más información de prensa sobre TelevisaUnivision visita nuestra Sala de Prensa o síguenos en Twitter e Instagram.
CONTACTO:
Laura Paez lpaez@televisaunivision.com