Catherine Siachoque is starring in the fifth episode of the reimagined version of the psychological thriller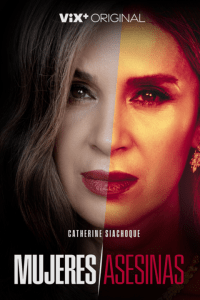 MIAMI – DECEMBER 1, 2022 – Colombian television and theatre actress, Catherine Siachoque (Blanca) is starring in the fifth episode of the psychological drama MUJERES ASESINAS (Killer Women) premiering exclusively on ViX+ this Friday, December 2.
After 25 years of marriage, Blanca, a submissive housewife, and Fernando Longarés, a movie star, reach their silver wedding anniversary. Although the marriage is full of secrets and betrayals, the party must go on. As the guests arrive, Blanca signs their will, leaving their nephew Guillermo, the son they never had, as their heir. In the heat of the drinks and after the first confession, the wedding takes a course that no one could have imagined.
With stories inspired by real life, the protagonists of this series did not have simple, happy lives. After trying to improve their lives and failing, these women reached their limit and found violence as their only solution. The reboot of the award-winning anthology that became one of the most popular series on Mexican television almost 10 years ago, will showcase stories inspired by real events, with new episodes weekly.
WHEN: Friday, December 2
WHERE: ViX+
Click here to download assets.
ViX+ offers subscribers more than 10,000 hours of premium content, including more than 70 ViX+ Originals series and movies set to debut in its first year. Subscription to ViX+ is available in the U.S., Mexico, and most of Spanish-speaking Latin America via web at vixplus.com and through ViX app on a variety of entertainment platforms and devices, including smartphones, connected TVs and digital subscription services.
Join the conversation using the hashtags #MujeresAsesinas and #ViXplus and follow ViX+ on Instagram, Twitter, Facebook and TikTok.
Visit televisaunivision.com for more information on TelevisaUnivision and follow us on Twitter and Instagram.
CONTACTS:
United States and Latin America
Casandra Blanco, cmblanco@televisaunivision.net
Mexico
Sandra Oropeza, soropezagonzalez@televisaunivision.net
###