Jedet is starring in the fourth episode of the reimagined version of the psychological thriller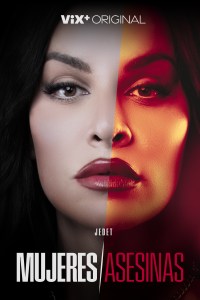 MIAMI – NOVEMBER 23, 2022 – Spanish singer, actress, and LGBTQ+ activist Jedet is starring in the fourth episode of the psychological drama MUJERES ASESINAS (Killer Women) premiering exclusively on ViX+ this Friday, November 25.
Jedet tells the story of Angel, a promising young physiotherapist, who spreads his wings and embraces his true self and sexuality, becoming Paula. Although she does not have support from her father, Ximena, her best friend, stands by her side. The problems begin when Paula meets Napoleon at work and he takes her on a date. At the party, Napoleon introduces her to a handsome and successful architect, Mario, and the competition to win Paula's heart begins.
With stories inspired by real life, the protagonists of this series did not have simple, happy lives. After trying to improve their lives and failing, these women reached their limit and found violence as their only solution. The reboot of the award-winning anthology that became one of the most popular series on Mexican television almost 10 years ago, will showcase stories inspired by real events, with new episodes weekly.
WHEN: Friday, November 25
WHERE: ViX+
Click here to download assets.
ViX+ offers subscribers more than 10,000 hours of premium content, including more than 70 ViX+ Originals series and movies set to debut in its first year. Subscription to ViX+ is available in the U.S., Mexico, and most of Spanish-speaking Latin America via web at vixplus.com and through ViX app on a variety of entertainment platforms and devices, including smartphones, connected TVs and digital subscription services.
Join the conversation using the hashtags #MujeresAsesinas and #ViXplus and follow ViX+ on Instagram, Twitter, Facebook and TikTok.
Visit televisaunivision.com for more information on TelevisaUnivision and follow us on Twitter and Instagram.
CONTACTS:
United States and Latin America
Casandra Blanco, cmblanco@televisaunivision.net
Mexico
Sandra Oropeza, soropezagonzalez@televisaunivision.net
###
El cuarto episodio de MUJERES ASESINAS "Llámame Paula" se estrena el viernes 25 de noviembre en exclusiva en ViX+
Jedet protagoniza el cuarto episodio de la versión reinventada del thriller psicológico.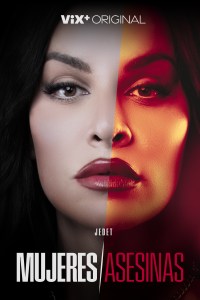 MIAMI – 23 DE NOVIEMBRE DE 2022 – La cantante, actriz y activista LGBTQ+ española Jedet protagoniza el cuarto episodio del drama psicológico MUJERES ASESINAS que se estrena en exclusiva en ViX+ este viernes 25 de noviembre.
Jedet cuenta la historia de Ángel, un joven y prometedor fisioterapeuta, que despliega sus alas y abraza su verdadero yo y su sexualidad, convirtiéndose en Paula. Aunque no cuenta con el apoyo de su padre, Ximena, su mejor amiga, está a su lado. Los problemas comienzan cuando Paula conoce a Napoleón en el trabajo y éste la lleva a una cita. En la fiesta, Napoleón le presenta a un apuesto y exitoso arquitecto, Mario, y comienza la competencia por conquistar el corazón de Paula.
Con historias inspiradas en la vida real, los protagonistas de esta serie no tenían vidas simples y felices. Después de intentar mejorar sus vidas y fracasar, estas mujeres llegaron a su límite y encontraron la violencia como su única solución. El reinicio de la galardonada antología que se convirtió en una de las series más populares de la televisión mexicana hace casi 10 años, mostrará historias inspiradas en hechos reales, con nuevos episodios semanales.
CUANDO: Viernes, 25 de noviembre
DONDE: ViX+
Haz clic aquí para descargar material.
ViX+ ofrece a los suscriptores más de 10.000 horas de contenido premium, incluyendo más de 70 series y películas ViX+ Originals que se estrenarán en su primer año. La suscripción a ViX+ está disponible en Estados Unidos, México y la mayor parte de Latinoamérica de habla hispana a través de la web vixplus.com y a través de la aplicación ViX en una variedad de plataformas y dispositivos de entretenimiento, incluyendo smartphones, televisores conectados y servicios de suscripción digital.
Únete a la conversación usando los hashtags #MujeresAsesinas y #ViXplus y sigue a ViX+ en Instagram, Twitter, Facebook y TikTok.
Visita televisaunivision.com para más información sobre TelevisaUnivision y síguenos en Twitter e Instagram.
CONTACTOS:
Estados Unidos y América Latina
Casandra Blanco, cmblanco@televisaunivision.net
México
Sandra Oropeza, soropezagonzalez@televisaunivision.net
###