Maxi Iglesias and Ximena Romo star in the original dramedy, currently filming in Spain and the U.S.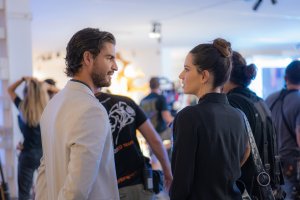 Click here to download images.
MIAMI – October 18, 2022 – TelevisaUnivision, the world's leading Spanish-language content and media company, today released at MIPCOM the first images of LOS ARTISTAS ("The Artists," working title), an original dramedy that will exclusively premiere on ViX+.
Starring Maxi Iglesias ("Dueños del Paraíso," "Velvet," "Física o Química") and Ximena Romo ("María Félix: la Doña," "Señorita 89," "El Color de la Pasión"), LOS ARTISTAS is a high-stakes heist story of deceit, forgery and suspense, set in the rarified world of multi-million-dollar art.
Taking place in Spain and the U.S., LOS ARTISTAS is María Dueñas' first direct-to-series project and the first series under the first-look agreement between the bestselling author and TelevisaUnivision. Francesc Garrido ("Waiting for May," "El Jaguar") will play the antagonist of the series produced by 360 Powwow and Isla Audiovisual, under the direction of Joaquín Llamas, Oriol Ferrer and Manuel Sanabria and the production of Daniel Gutman and Victor García.
LOS ARTISTAS tells the story of Cata, a young Mexican art connoisseur, whom the bitter twists of fate lead to work in a mediocre restaurant in Madrid. Yago is a young Spanish antique dealer forced by bad luck to close his business. Unexpectedly, they get to know each other and their chemistry, paired with the need to find a way out of their harsh circumstances, make them a seductive couple looking for buyers for magnificent works of art. The problem is that such works are fake, extremely fake. With their talent, brazenness, and audacity, they will lead the story of this attractive, addictive series, full of humanity, unexpected turns, irony and beauty.
ViX+ TelevisaUnivision's premium subscription service offers subscribers more than 10,000 hours of premium content, including more than 70 ViX+ original series and movies scheduled for release during its first year. ViX+ is available by subscription in the United States, Mexico and most Spanish-speaking countries in Latin America through the web at vixplus.com and the ViX app on various entertainment platforms and devices such as smartphones, connected TVs and digital subscription services.
Visit televisaunivision.com for more information on TelevisaUnivision and follow us on Twitter and Instagram.
Click here to download assets.
CONTACTS: 
United States and Latin America
Tatiana Oviedo, toviedo@univision.net
Mexico
Sandra Oropeza, soropezagonzalez@univision.net
###
ViX+ revela en MIPCOM las primeras imágenes de LOS ARTISTAS, el primer proyecto de María Dueñas para una serie
Maxi Iglesias y Ximena Romo son los protagonistas de esta comedia dramática original, que se está filmando en España y EE. UU. 
Haga clic aquí para descargar las imágenes.
MIAMI –18 de octubre de 2022– TelevisaUnivision, la principal empresa de contenido y medios en español en el mundo, reveló hoy en MIPCOM las primeras imágenes de LOS ARTISTAS, una comedia dramática original que se estrenará exclusivamente en ViX+.
Protagonizada por Maxi Iglesias ("Dueños del paraíso", "Velvet", "Física o química") y Ximena Romo ("María Félix: la doña", "Señorita 89", "El color de la pasión"), LOS ARTISTAS es una historia de un atraco de alto riesgo con engaños, falsificaciones y suspenso, ambientada en el exclusivo mundo multimillonario de la venta de obras de arte.
LOS ARTISTAS, que se graba en España y Estados Unidos, es el primer proyecto que María Dueñas crea directamente como serie y como parte del acuerdo de acceso preferencial (first-look) entre la autora de bestsellers y TelevisaUnivision. Francesc Garrido ("Waiting for May", "El jaguar") hará el papel del antagonista de la serie, una producción de 360 Powwow e Isla Audiovisual con Joaquín Llamas, Oriol Ferrer y Manuel Sanabria como directores y Daniel Gutman y Víctor García como productores.
LOS ARTISTAS cuenta la historia de Cata, una mexicana experta en arte, a la que los giros amargos del destino llevan a trabajar en un mediocre restaurante en Madrid. Yago es un joven anticuario español, a quien la negra mala suerte obliga a cerrar su negocio. De forma inesperada, llegan a conocerse. La química que surge entre ellos, junto a la necesidad de encontrar una salida para sus duras circunstancias, los convierte en una seductora pareja en busca de clientes a los que vender magníficas obras de arte. El problema es que tales obras son falsas. Aun así, con talento, descaro y audacia, lograrán sus propósitos en una serie atractiva, adictiva, llena de humanidad, quiebros inesperados, ironía y belleza.
ViX+, el servicio premium con suscripción de TelevisaUnivision, ofrece a los suscriptores más de 10,000 horas de contenido premium, incluidas más de 70 ViX+ series y películas originales que se tiene programado estrenar durante su primer año. ViX+ está disponible con suscripción en Estados Unidos, México y la mayoría de los países hispanohablantes de Latinoamérica en vixplus.com y la aplicación de ViX en varias plataformas de entretenimiento y dispositivos, como teléfonos inteligentes, televisores conectados y servicios digitales con suscripción.
Visita televisaunivision.com para más información sobre TelevisaUnivision y síguenos en Twitter e Instagram.
Haga clic aquí para bajar imágenes.
Contactos:
Estados Unidos y Latinoamérica
Tatiana Oviedo, toviedo@univision.net
México
Sandra Oropeza, soropezagonzalez@univision.net
###