New original drama starts production next week in Spain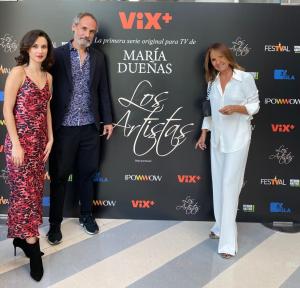 Photo:

A

ctors

Ximena Romo, Franc

esc

Garrido

and

writer Maria Dueñas in Vitoria-

Gasteiz

,

Spain
Vitoria-Gasteiz, Spain – September 8, 2022 – ViX+, TelevisaUnivision´s Spanish-language premium subscription streaming service, 360 Powwow and Isla Audiovisual announced today at FesTVal in Vitoria-Gasteiz (Spain) that Maxi Iglesias ("Dueños del Paraíso," "Velvet," "Fisica O Quimica") and Ximena Romo ("María Félix: la Doña," "Señorita 89," "El Color de la Pasión") will play the leads with Francesc Garrido ("Waiting for May", "El Jaguar") as antagonist, in LOS ARTISTAS (The Artists, working title) a new drama series full of deceit, forgery, and suspense, set in the world of multi-million-dollar art dealing business.  
Filming for the new original ViX+ series will begin next week in Madrid, Spain, and continue in Toledo, Marbella and Miami. LOS ARTISTAS is the first project under the first look agreement of bestselling author María Dueñas with TelevisaUnivision's streaming service. 360 Powwow and Isla Audiovisual will produce the series for ViX+ under the direction of Joaquín Llamas, Oriol Ferrér and Manuel Sanabria. 
"It has been an immense honor to put my creativity at the service of this wonderful series. A cross between Spain and Mexico with adorable characters, talent and irony, which introduces us to the most controversial facet of the art world. A mixture of high comedy, romance, adventure and thriller, with a leading couple that will make us fall in love, and plots that will make us hold our breath," said Maria Dueñas. 
Alongside writer María Dueñas, director Manuel Sanabria, producers Daniel Gutman and Victor García, and actors Ximena Romo and Francesc Garrido were all in attendance for the series announcement at a FesTVal press conference in Vitoria-Gasteiz, Spain while Maxi Iglesias connected virtually. 
"ViX+ is all about opportunities for Spanish-speaking talent. This first-look deal with Maria Dueñas and the new series LOS ARTISTAS is an example of the quality of storytelling we are bringing to ViX+" said Vincenzo Gratteri, senior vice president of development at ViX+.  
LOS ARTISTAS tells the story of Cata, a young Mexican art connoisseur to whom the bitter twists of fate lead her to work in a mediocre restaurant in Madrid. Yago is a young Spanish antique dealer, who is forced by bad luck to close his business. Unexpectedly, they get to know each other. The chemistry that develops between them, coupled with the need to find a way out of their harsh circumstances, makes them a seductive couple looking for clients to sell magnificent works of art to. The problem is that such works are fake. Extremely fake. Even so, with talent, brazenness and audacity, they will achieve their goals in an attractive, addictive series, full of humanity, unexpected turns, irony and beauty. 
ViX+ offers subscribers more than 10,000 hours of premium content, including more than 70 ViX+ Original series and movies set to debut in its first year. ViX+ is available in the U.S., Mexico, and most of Spanish-speaking Latin America by subscription, online at vixplus.com and via the ViX app, on a variety of platforms and devices, including mobile; tablet; connected TV such as Fire TV, Google TV, Android TV OS, Apple TV, Roku, Samsung TV; DISH TV; and digital subscriptions such as Prime Video Channels, YouTube TV, SLING TV and izzi (only available in Mexico).   
Join the conversation using the hashtag #vixplus and follow ViX+ on Instagram, Twitter, Facebook, TikTok.  
Click HERE to download images.  
CONTACTS:
United States and Latin America
Tatiana Oviedo, toviedo@univision.net 
Mexico
Sandra Oropeza, soropezag@univsion.net 
 ###
Maxi Iglesias y Ximena Romo Protagonizan LOS ARTISTAS de María Dueñas en ViX+ 
La próxima semana iniciará en España el rodaje de este drama original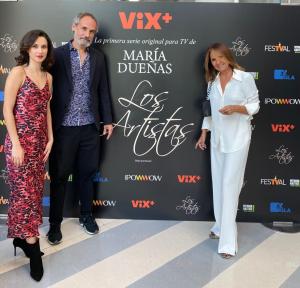 Foto:

Los a

ctores

Ximena Romo, Franc

esc

Garrido y

la

escritora

María

Dueñas

hoy

en

Vitoria-

Gasteiz

, España
Vitoria-Gasteiz, España – 8 de septiembre 2022– ViX+, el servicio premium de streaming en español con subscripción de TelevisaUnivision, 360 Powwow, e Isla Audiovisual anunciaron hoy en el marco de FesTVal de Vitoria-Gasteiz (España) que Maxi Iglesias ("Dueños del paraíso", "Velvet", "Física o química") y Ximena Romo ("María Félix: la doña", "Señorita 89," "El color de la pasión") protagonizarán con Francesc Garrido ("Waiting for May", "El Jaguar") como antagonista, LOS ARTISTAS (título provisional), en una nueva serie dramática repleta de engaños, falsificaciones y suspenso, ambientada en el mundo multimillonario de la venta de obras de arte. 
El rodaje de la nueva serie original de ViX+ empezará la próxima semana en Madrid, España, y continuará en Toledo, Marbella y Miami. LOS ARTISTAS es el primer proyecto bajo el acuerdo de acceso preferencial (first look) de la autora de bestsellers María Dueñas con el servicio de streaming de TelevisaUnivision. 360 Powwow e Isla Audiovisual producirán la serie bajo dirección de Joaquín Llamas, Oriol Ferrer y Manuel Sanabria. 
"Ha sido un enorme honor poner mi creatividad al servicio de esta maravillosa serie, un cruce de España y México con personajes encantadores, talento e ironía, que nos presenta el aspecto más polémico del mundo del arte. Es una combinación de la mejor comedia, romance, aventura y suspenso, con una pareja protagonista que hará que nos enamoremos y tramas que harán que aguantemos la respiración", dijo María Dueñas. 
Además de la escritora María Dueñas, los productores Daniel Gutman y Víctor García, el director Manuel Sanabria, y los actores Ximena Romo y Francesc Garrido estuvieron presentes en la rueda de prensa de FesTVal en Vitoria-Gasteiz, España, con el actor Maxi Iglesias participando a través de una conexión virtual.   
"ViX+  presenta grandes oportunidades para el talento de habla hispana. Este acuerdo de acceso preferencial con María Dueñas y la nueva serie LOS ARTISTAS son un ejemplo de la calidad de las narrativas que estamos trayendo a ViX+", dijo Vincenzo Gratteri, vicepresidente sénior de desarrollo de ViX+.  
 LOS ARTISTAS cuenta la historia de Cata, una mexicana experta en arte, a la que los giros amargos del destino llevan a trabajar en un mediocre restaurante en Madrid. Yago es un joven anticuario español, a quien la negra mala suerte obliga a cerrar su negocio. De forma inesperada, llegan a conocerse. La química que surge entre ellos, junto a la necesidad de encontrar una salida para sus duras circunstancias, los convierte en una seductora pareja en busca de clientes a los que vender magníficas obras de arte. El problema es que tales obras son falsas. Aun así, con talento, descaro y audacia, lograrán sus propósitos en una serie atractiva, adictiva, llena de humanidad, quiebros inesperados, ironía y belleza.  
ViX+ ofrece a los suscriptores más de 10,000 horas de contenido premium, incluidas más de 70 ViX+ series y películas originales que se tiene programado estrenar durante su primer año. ViX+ está disponible por suscripción en Estados Unidos, México y la mayoría de los países hispanohablantes de Latinoamérica, por internet en vixplus.com y vía el app de ViX en varias plataformas y dispositivos, entre ellos: móviles: Apple iOS y Android; tabletas: iPad, Android; televisores conectados: Fire TV, Google TV, Android TV OS, Apple TV, Roku, Samsung TV, DISH TV y suscripciones digitales: Prime Video Channels, YouTube TV, SLING TV e Izzi (solo en México).
Participe en la conversación con el hashtag #ViXplus y siga a ViX+ en Instagram, Twitter, Facebook, TikTok.  
 Haga clic AQUÍ para descargar imágenes.  
CONTACTOS: 
Estados Unidos y Latinoamérica
Tatiana Oviedo, toviedo@univision.net 
México
Sandra Oropeza, soropezag@univision.net 
###