DESPIERTA AMÉRICA Debuts "Con DESPIERTA AMÉRICA …Todo es Posible" a Contest for Latino Entrepreneurs with Emilio Estefan Leading as Head Mentor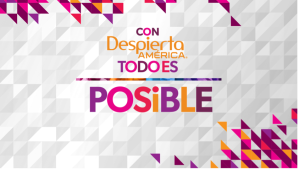 MIAMI – AUGUST 11 – DESPIERTA AMÉRICA, the Emmy-award-winning morning show on Univision, debuted "Con DESPIERTA AMÉRICA … Todo es Posible (Everything is Possible)," a contest aimed at Latino entrepreneurs. The competition invites Latino entrepreneurs to showcase their ideas and share their dreams of creating their small businesses or strengthening the businesses they already have for a prize of $25,000.
As part of DESPIERTA AMÉRICA's 25th anniversary, ten finalists will have the opportunity to present their business or business ideas in front of an expert jury, with the guidance of mentors. The finalists will additionally participate in challenges and activities throughout the competition as they reach the final award.
The expert jury that will join DESPIERTA AMÉRICA for this competitive segment represents different areas of business development such as Emilio Estefan, music producer and entrepreneur, who will lead the team of mentors. DESPIERTA AMÉRICA will announce additional participants throughout the following week.
Throughout recent weeks, DESPIERTA AMÉRICA has continued to reach more Hispanic audiences than other multiple network morning shows combined. Additionally, DESPIERTA AMÉRICA has been the fastest-growing (and the only) weekday early morning program on broadcast television with over-year audience growth in the current 2022 season among total viewers, adults 18-49, and adults 18-34. DESPIERTA AMÉRICA airs Monday through Friday at 7 a.m. ET and Sundays at 9 a.m. ET. Watch it on Univision.
Watch "Con DESPIERTA AMÉRICA … Todo es Posible" on DESPIERTA AMÉRICA, tomorrow, August 12 on Univision beginning at 7 a.m.
Visit televisaunivision.com for more information on TelevisaUnivision and follow us on Twitter and Instagram.

Contact: Daniela Perez daperez@univision.net

About Univision News
TelevisaUnivision's award-winning News division is committed to informing one of the country's fastest growing segments of the population across all media platforms, including TV, Radio, and Digital. Hispanics count on the latest and most relevant content that impacts the community through: "Noticiero Univision," the Network's noon, evening, late evening and weekend national newscast; Sunday public affairs program "Al Punto" (To The Point); newsmagazine shows "Aquí y Ahora" (Here and Now) and "Primer Impacto" (First Impact); as well as morning news segments on "Despierta América" (Wake Up America), and its newly launched streaming news channel "Noticias Univision 24/7" on ViX. Univision has strengthened its news team and expanded its news operations by adding Investigative, fact-checking, and Infographics Units.

About TelevisaUnivision
As the leading Spanish-language media and content company in the world, TelevisaUnivision features the largest library of owned content and industry-leading production capabilities that power its streaming, digital and linear television offerings, as well as its radio platforms. The Company's media portfolio includes the top-rated broadcast networks Univision and UniMás in the U.S. and Las Estrellas and Canal 5 in Mexico. TelevisaUnivision is home to 36 Spanish-language cable networks, including Galavisión and TUDN, the No. 1 Spanish-language sports network in the U.S. and Mexico. With the most compelling portfolio of Spanish-language sports rights in the world, TelevisaUnivision has solidified its position as the Home of Soccer. TelevisaUnivision also owns and manages 59 television stations across the U.S. and four broadcast channels in Mexico affiliated with 222 television stations, Videocine studio, and Uforia, the Home of Latin Music, which encompasses 57 owned or operated U.S. radio stations, a live event series and a robust digital audio footprint. TelevisaUnivision is home to the global streaming services ViX and Blim TV, which altogether host over 50,000 hours of high-quality, original Spanish-language programming from distinguished producers and top talent. The company's prominent digital assets include Univision.com, Univision NOW, and several top-rated digital apps. For more information, visit televisaunivision.com. 

###
DESPIERTA AMÉRICA estrena "Con DESPIERTA AMÉRICA …Todo es Posible" un concurso para emprendedores latinos con Emilio Estefan como jefe de mentores
MIAMI –11 DE AGOSTO – DESPIERTA AMÉRICA, el programa matutino ganador del premio Emmy de Univision, lanzó "Con DESPIERTA AMÉRICA … Todo es posible", un concurso dirigido a emprendedores latinos. La competencia invita a empresarios latinos a mostrar sus ideas y compartir sus sueños de crear sus negocios o fortalecer los negocios que ya tienen por un premio de $25,000.
En celebracion del 25 aniversario de DESPIERTA AMÉRICA, diez finalistas tendrán la oportunidad de presentar sus negocios o ideas de negocio frente a un jurado experto, con la guía de mentores. Los finalistas también participarán en desafíos y actividades a lo largo de la competencia a medida que alcancen el premio final.
El jurado de expertos que se unirá a DESPIERTA AMÉRICA para este segmento competitivo representa diferentes áreas de desarrollo empresarial como Emilio Estefan, productor musical y empresario, quien será el jefe del equipo de mentores. DESPIERTA AMÉRICA anunciará mentores adicionales a lo largo de la semana siguiente.
Mira "Con DESPIERTA AMÉRICA… Todo es posible" en DESPIERTA AMÉRICA mañana por Univision – DESPIERTA AMÉRICA transmite de lunes a viernes a las 7 a. m. ET y los domingos a las 9 a. m. ET.
Visiten televisaunivision.com para más información sobre TelevisaUnivision y pueden seguirnos en Twitter e Instagram.
Contacto: Daniela Perez daperez@univision.net
Acerca de Noticias Univision
La galardonada división de Noticias de TelevisaUnivision se compromete a informar a uno de los segmentos de la población de más rápido crecimiento del país en todas las plataformas de medios, incluidas TV, Radio y Digital. Los hispanos cuentan con el contenido más reciente y relevante que impacta a la comunidad a través de: "Noticiero Univision", el noticiero nacional del mediodía, la tarde, la noche y los fines de semana de la Cadena; programa dominical de asuntos públicos "Al Punto"; los noticieros "Aquí y Ahora" y "Primer Impacto"; así como segmentos de noticias matutinas en "Despierta América" (Wake Up America), y su nuevo canal de transmisión de noticias "Noticias Univision 24/7" en ViX. Univision ha fortalecido su equipo de noticias y ha ampliado sus operaciones de noticias al agregar unidades de investigación, verificación de datos e infografía.
Sobre TelevisaUnivision
Como la compañía líder de contenidos y medios en español en el mundo, TelevisaUnivision cuenta con la biblioteca de contenido propio más grande y capacidad de producción líder en la industria, mismas que impulsan sus ofertas de transmisión digital y lineal, así como sus plataformas de radio. La cartera de medios de la Compañía incluye las cadenas de transmisión líderes Univision y UniMás en Estados Unidos, y Las Estrellas y Canal 5 en México. TelevisaUnivision es el hogar de 36 canales de televisión de paga en español, incluidos Galavisión y TUDN, el canal de deportes en español número 1 en Estados Unidos y en México. Con la cartera de derechos deportivos en español más atractiva del mundo, TelevisaUnivision ha consolidado su posición como la Casa del Fútbol. TelevisaUnivision también posee y administra 59 estaciones de televisión en Estados Unidos y cuatro canales de transmisión en México con 222 estaciones de televisión asociadas, los estudios de Videocine y Uforia, the Home of Latin Music, que abarca 57 estaciones de radio propias u operadas en Estados Unidos, una serie de eventos en vivo y una sólida huella de audio digital. TelevisaUnivision es el hogar de los servicios de transmisión digital premium ViX y Blim TV, que en conjunto presentan más de 50,000 horas de programación original en español de alta calidad de productores distinguidos y talento destacado. Los activos digitales más relevantes de la empresa incluyen Univision.com, Univision NOW y varias aplicaciones digitales de primera categoría. Para obtener más información, visite www.televisaunivision.com.